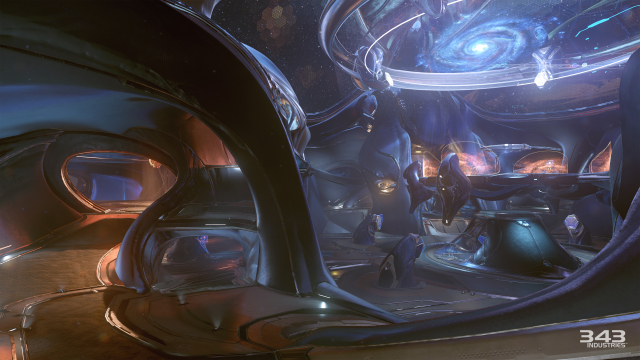 Instantly, this map is recognizable as a remake of a Halo classic and many aspects of it hold true to its legacy.  Truth is a remake of the iconic Midship from Halo 2 and is the brain child of Vic DeLeon, environment artists at 343 Industries.  Unlike it's predecessor, Truth is a lot more curvy and open to facilitate the new Spartan mobility options in Halo 5: Guardians.  Visually, Truth is a stunning work of art with holographic displays scattered throughout the map on terminals and the central galactic hologram above sword spawn top mid.  The pillars in the middle have been replaced by an arched walkway that can be used to get to the top platform by a hole in the middle.  The top platform is now one unified bridge bisecting the map across the middle with the sword platform levitating above and shields scattered around the central platform that can be taken out.  There are a few new cubby-holes in each of the bases that offer a few new options for players to move around the map.  If you're one to admire the artwork of Halo, you can take a look outside the windows on ground level or just look up and out the dome.
The map flows similarly to the original Midship, but it felt uniquely different from the openness and some of the differences in  how players were focusing on moving around.  Engagements didn't seem to be as focused in certain concentrated areas that I would anticipate from Midship games, and one point to that was the increased engagements I had in the middle versus concentrated engagements in the bases and top mid sections. Talking with some of the Ready Up Live in our podcast, it seems like my group may have just played the map differently because they got a very identical feel to Midship.  None-the-less, people will take the nuances with this map and may play differently because of the changes but there are aspects that definitely feel like the original Halo 2 map.  Simply for nostalgia's sake, this map may be the fan favorite for the multiplayer beta, but there are still a few more maps that will be coming during the beta we didn't get to see yet.
This slideshow requires JavaScript.
Discuss in our forums!