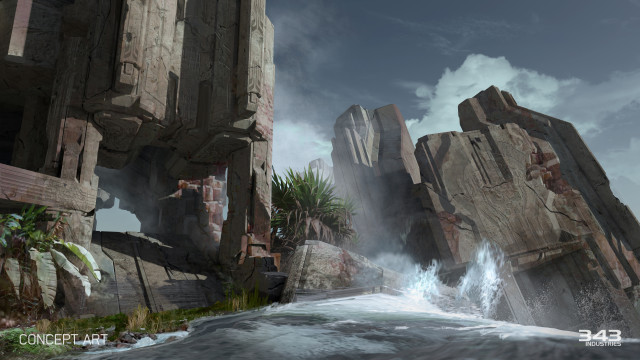 From Gamescom, 343 Industries continues to gives us more tidbits of information expanding on the announcements made during the Xbox briefing on Monday.  From the Xbox booth they have had two streams covering different areas of the Master Chief Collection.
Halo Channel and Halo 2 Anniversary
On Tuesday morning, Geoff Keighley sat down with Kiki Wolfkill and Dan Ayoub.  The first part of the interview focused on the Halo Channel, which is not a replacement of Halo Waypoint, but more of an evolution of it.  Kiki explains that the channel is designed to behave like premium TV programming and is geared to be an interactive entertainment channel.  One example of this is the Halo Bulletin will become a weekly video production that will be featured on the Halo Channel.
In the second part of the interview, we learn that the Halo 2 Anniversary soundtrack is being recorded at Skywalker Studio and will more closely resemble the original Halo 2 Soundtrack than the Halo CEA one.  This is to give the music higher fidelity sound and provide a better surround-sound mix.  Halo 3 and 4 are getting a few technical tweaks to take advantage of the Xbox One hardware including changes to the lighting systems and shaders.  Dan, when asked about ranks, also said each game in the Master Chief Collection will have it's own ranking system, and not one across the entire collection.
Shrine (Sanctuary)
Wednesday morning, Andy "Bravo" Dudynsky sat down with Certain Affinity's Max Hoberman to talk about Shrine, the remake of Sanctuary for Halo 2 Anniversary.  Along with the major changes to scenery and environment, the map has a few changes that is similar to the remake treatment we saw in the Halo: CE Anniversary multiplayer maps.  The changes provide more choices for players to get around the map and strategize.  Assault rifles have been introduced to the map and the middle sword has been replaced with a rocket launcher.  Spawn points have also been slightly altered and in conjunction with the spawn system getting some tweaks itself.  Max also mentioned an article he wrote that was published on B.net about how the stats and ranking system worked for Halo 2.  It's since been lost on Bungie's website, but we've managed to find it and post it here.  The quick and dirty is that it is a modified Elo system with a zero-sum at rank 15 (for all you statisticians who knows what that means).  Below are some screenshots from Wednesday's stream that were pointed out as new changes to the map.