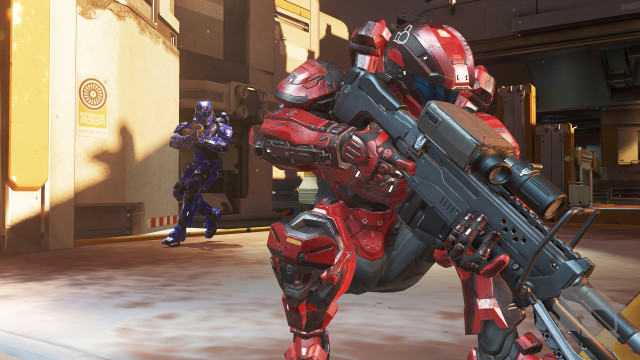 The game has been out for less than two weeks and 343 is already showing us new things to wet our appetites with this month for Halo 5.  In their latest Community Update, Bravo treats us to many goodies including new REQs, Big Team Battle maps created by the Community Cartographers, and updates/fixes to the game based on community feedback.  There's a lot of content to dig through and this can likely be expected for the next few months as new content rolls out.First thing to mention is changes to matchmaking.  One gripe the community has had so far is people trying to play together as a party from different countries.  This has been a particular outcry from Australians, which has had several topics made on the Halo subreddit on the issue and work-arounds to play together.  In response, 343 has relaxed the restrictions on latency to dedicated servers and players should start seeing better matchmaking experiences for multi-country parties.  Orion has been removed from matchmaking completely to undergo some patching and 15 new map/gametype combinations have been added across all playlists.
Thanks to collaboration between the Community Cartographers and the 343 Multiplayer team, there will be four BTB maps coming this month all inspired by previous Halo maps.  These maps were made completely in Forge, so here's hoping that 343 is working on some non-Forged maps in a later content update.  Here are the four maps we're receiving:
This slideshow requires JavaScript.
You may have heard that thanks to REQ pack purchases, the Halo World Championship prize pool has grown to $1.5 million.  Prepare to be inundated with more REQ purchasing as there's 48 new permanent REQs across armor, helmets, emblems, visors, assassinations, weapons and vehicles.  One of each has been revealed with more to be revealed in the coming days.
Isolated occurrences of "slow turn" have made their way into the Halo 5 landscape and 343 is making some changes that should mostly go unnoticed by players who aren't experiencing controller issues.  Additionally, based on user feedback, they are working on another project to bring more precise tuning to Halo 5 controller settings including things like independent vertical/horizontal sensitivities, the ability to calibrate your own dead zones, more granularity in sensitivity, and more.  The team is looking to have this out next month and should be a huge benefit to everyone, especially standard Xbox One controller users.
Finally, 343 is bringing spotlights back to the community with a Play of the Week and Community Spotlight.  This week's play of the week got major traction on the Halo subreddit and we posted it on our War Boards when we saw it.  Warzone is won primarily by AI boss takedowns and this clip shows how patience is indeed a virtue in Halo.  Community Spotlight this week shines its light on Halo Tracker whom 343 got input for the private beta of the Public Stats API.  Bravo caught up with some of the developers over there to see how they've already started building a platform around the API.  We definitely recommend you check out the site and sign up for an account.