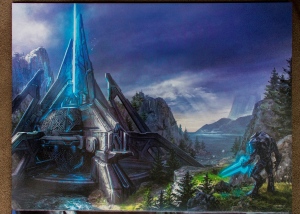 Our trip to NYCC wasn't only filled with Halo toys and figures, but a few publications you could actually pick up on the show floor.  One of these items was Halo: The Picture Collection.  This collection of posters from Insight Editions contains a variety of 40 removable art prints, promotional pieces, book covers and more.  The print quality makes it look like you're looking at a poster print, but is sturdy like card stock.  At 16 x 12in., they're great for small, framed pictures, but if you're looking to see all of them at once, prepare to grab two as they're printed front and back.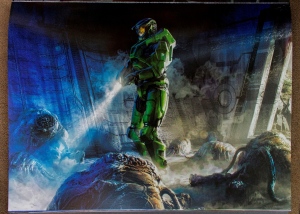 We teamed up with Halo collector to bring you images of all the posters before it comes out a week before The Master Chief Collection.  Many of the artwork you've probably already seen, but there are some that have been quite rare to find until now.  If you want to see all the posters that come with the book, head over to HaloCollector.com.  They will be giving one of the poster collections as well, so make sure you follow them on Facebook for your change to grab one.
Halo: The Poster Collection is available for pre-order right now from Insight Editions and Amazon and retails for 24.99USD and releases on November 4th.