Bravo is here bringing us the latest info on the Halo Championship Series season two.  Things have been off to a rough start for the online tournaments following the pre-season online cups and the Iron Games Atlanta LAN, but we saw Xbox Live hold out for the first online cup to take place this past weekend.  Before diving into the season two info, we learn the MVP of HCS season one voted on by the community was Snip3down. The inevitable roster changes known as "Roster-mania" took place during the off season: Bravo addressing the more notable changes and players talking about how they feel these changes will impact season two.
If you weren't able to tune into Iron Games Atlanta to catch the kick-off LAN for season two, fret not as Bravo and Goldenboy give you the rundown on how the weekend progressed with Evil Geniuses taking first, $10K and 600 HCS points.  If you want to know how EG pulled out the win on the final match, Bravo has you covered there to with a play-by-play analysis of the last flag run to secure the win.  PGL Indianapolis will be the next LAN event June 26-28th before the finals in July.  With the shuffling of the online cups due to Xbox Live issues, here's the updated schedule.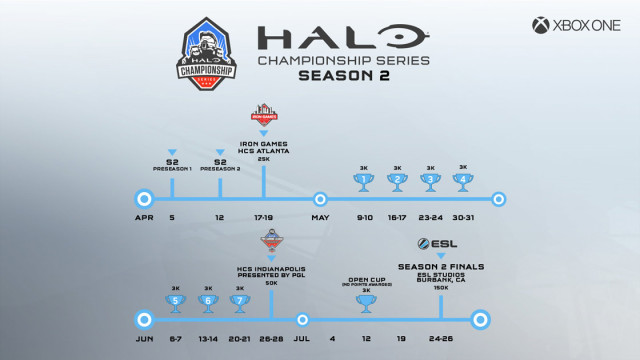 Come discuss the Halo Championship Series in our new dedicated forum. BTW, wasn't that intro awesome?