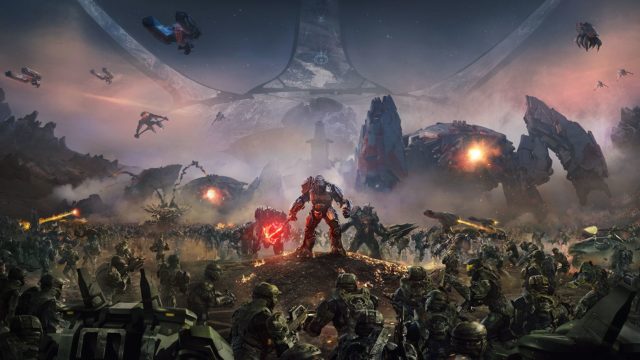 During today's E3 Xbox Press Briefing, 343 Industries partnered with Creative Assembly officially announced Halo Wars 2 coming to Windows 10 PC and Xbox One, Feburary 21, 2017.  Halo Wars 2 carries on the Real-time Strategy gameplay of Halo onto the Ark, where you'll fight against the Banished Covenant faction.  Halo Wars 2 was originally targeted for a 2016 launch window, but was pushed back for polish and breath-ability to be enjoyed by Halo fans upon release.  However, starting today, the Halo Wars 2 Open Beta is available on Xbox One only.  There will be a subsequent beta before the game's release that will include a PC beta, but according to Xbox, a PC build of the game simply wasn't ready in time to account for the variety of different possible computer configurations available.
Halo Wars 2 will be an Xbox Play Anywhere title, meaning your saves and achievements will be available both on Xbox One and Windows 10 PC and you only have to buy the game once to play on either platform.  Tomorrow Xbox will unveil more details about how to pre-order Halo Wars 2 and about the Ultimate Edition of Halo Wars 2, which will include Halo Wars: Definitive Edition, along with other bonuses.  Grab the Open Beta today from the Xbox Store.
During the beta, two game modes will be available.  Starting today, June 13th through June 16th, Domination will be playable, which is the traditional RTS game mode seen in the original Halo Wars where players fight for map control.  From June 17th until June 20th, Deathmatch will be playable where players fight until one is the last standing.
Source: Xbox Wire