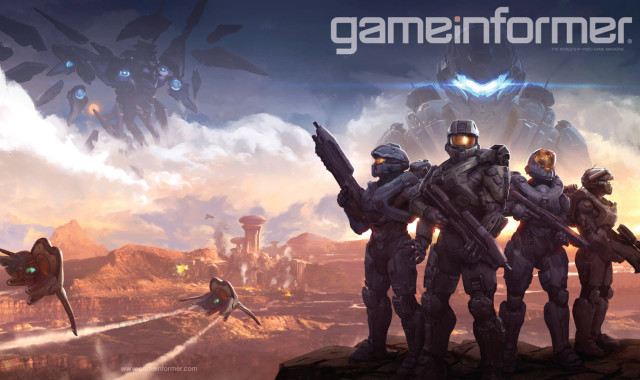 Game Informer has released the cover for their July issue which will largely cover news regarding their recent trip to 343 Industries and hands-on experience with Halo 5: Guardians.  The cover showcases Master Chief and Blue Team against a Sanghellios backdrop with Banshees, Forerunner Guardian and a menacing Spartan Locke.
From the release, GI reveals Locke's team as Fireteam Osiris, hunting down the Master Chief and Blue Team who has been declared AWOL.  From the trailer below, we get our first   The coverage includes co-op gameplay as Blue Team before they were declared AWOL  In co-op play, gamers take the role of one of the members of Blue Team, similar to Halo 3's co-op choosing loadouts specific to that team member's abilities.
GI also got a length hands-on experience with the Arena multiplayer, including coverage on the changes to Empire and a new, undersea base map called Fathom.  There's even a new mode they got to try out that they say has never been seen in Halo before.