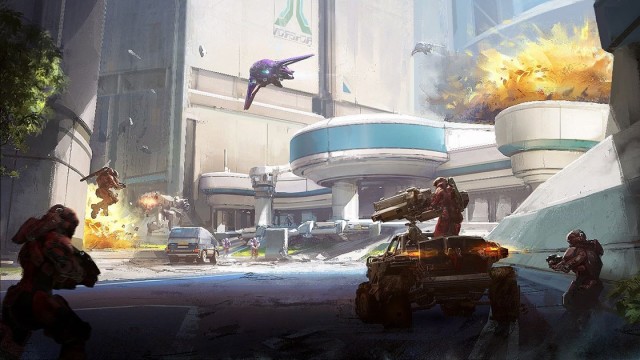 During the Game Awards Thursday Night, 343 released their latest trailer for December's content update titled the Cartographer's Gift.  In addition to what we saw in the video, Waypoint has a nice blog post detailing the content coming with the update including new requisitions, maps, Forge, matchmaking updates, features and fixes.  The HCS World Championship prize pool has also increased to $2M thanks to the purchase of REQ packs, which doesn't include this past weekend's Limited Edition HCS requisitions, which will most certainly increase the prize pool further.  343 will host another live stream on Friday, December 11th at 3PM Pacific to go over all the content in this update.  Breakdown of the Waypoint blog post after the video.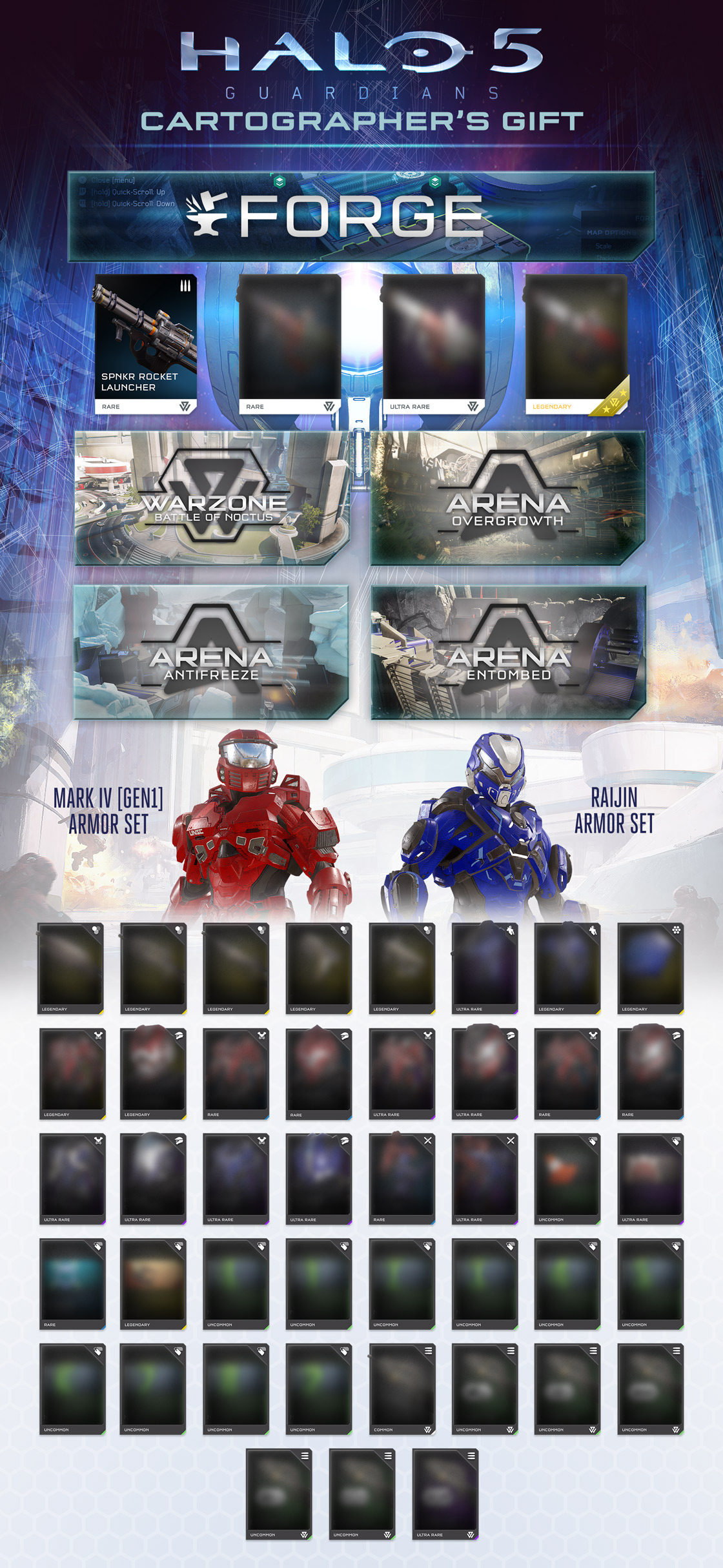 Thanks for joining us all the way down here.  Starting off with the new requisitions, fifty-one new permanent cards will be added including the classic SPNKr rocket launcher and Mark IV armor set.  Breaking down the whole set, there are eight new armor sets, seven weapon mods, new loadout weapons' skins, fourteen emblems, two stances, two assassinations, one visor and the four SPNKr rocket launcher variants.
Four new maps have been built, one for Warzone, one for Arena and two forged maps in conjunction with the community cartographers.  Battle of Noctus features a new layout where both smaller bases are garages, focusing heavily on vehicle use but are both easily accessible to both teams after the initial base clear.  There's more details and interviews with developers of the map over on the Waypoint blog post.  The new Arena map is Overgrowth, a remix of Plaza that has been taken over by plant life with tighter corridors to help vary gameplay.  The two forged maps are Entombed, a remake of Burial Mounds from Halo 2 made with the help of Ducain23 and Antifreeze, which we're assuming is made with the help of WARHOLIC since he doesn't have a map yet.
The biggest and probably the best Forge, built on community feedback is also coming with this update with a lot of brand new features we've covered before.  Forge will come with a basic implementation of a File Browser, allowing players to bookmark, play and share maps and modes.  As long as you're following a player, you can access their files and bookmarks and bookmark them for yourself.  Any bookmarked file will be available to play in custom games and opened in Forge.  The File Browser will be expanded with new features as 343 gathers community feedback.  Forge mode can be accessed from the Multiplayer menu and the File Browser from the Active Roster or Custom Game lobby.
Social playlists, which the community has been screaming for, are being introduced to Arena matchmaking starting with the current Big Team Battle playlist.  All social playlists will have a limited join-in-progress window.  FFA will feature six-player combat with the update and CSR tuning addresses some of the issues with ranking distribution and unusually high rank placements.  The Pre-Season for ranked playlists also comes to a close when the update drops starting the January 2016 season with reset ranks.
Finally, what would an update be without a list of improvements.
Lobby:
Your REQ Points and number of unopened REQ packs will be visible during intermission and in Lobby.
Fixed bug around Fireteam sorting –  The Fireteam Leader will now be displayed at the top followed by his or her team in alphabetical order by Gamertag.  For Custom Games, all other teams will be grouped together and then sorted alphabetically as well.
Roster:
Friend Status will now be visible from the Friends list so you can see what your buddies are doing in Halo 5: Guardians.
Fixed bug around Friend sorting so it sorts online and offline friends alphabetically.
Spartan Hub / REQs:
REQ Rarity and Description will be visible for all REQs when opening a REQ pack or browsing your Collection whether you own it or not.
REQ Energy Cost will also be displayed for all REQs when opening a REQ pack or browsing your Collection.
Additional Controller Settings are being added (look for a blog next week).
Spectate:
Adding hidden controls to Change Player POV without using the UI for up to 8 players in 4v4 or FFA (if this piques your interest, be on the lookout as we'll have more details in an upcoming blog).
From the Scoreboard, you'll be able to Change Player POV to a selected player. Press the View button to bring up the Scoreboard; use d-pad to navigate and A-button to select a POV.
Fixed bug around Player POV Selector sorting. It will now sort by team, and then alphabetically by Gamertag.
Fixed bug around controls for Zooming while in Free Cam.
Fixed bug around not being able to hide the Player POV Selector in some cases when toggling UI visibility.
HUD:
The Location Callout will now appear when dead, spectating, in Smart-Link, etc.
The Highest Score per Column in the in-game Scoreboard will have a visual callout allowing you to see very quickly which player has the most kills, most assists, and least deaths.
Make sure you tune into Friday's livestream on Friday, December 11th at 3PM Pacific on the Halo Channel or Twitch.TV/Halo where 343 will show off the content from this update.