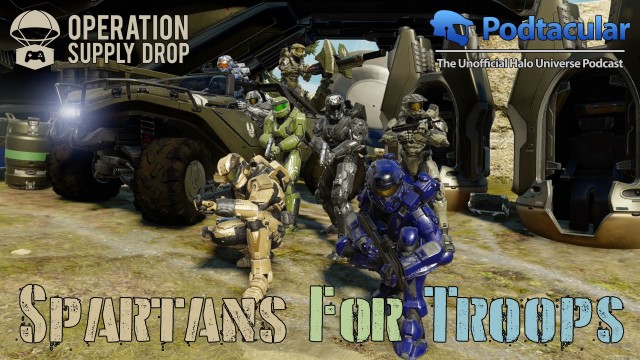 As we count down the hours to the Spartans For Troops Halo Community livestream, we have worked out our tentative schedule of events.  Right now, we're waiting on one large event to be confirmed on a time: the pro exhibition.  The latest we know is both teams that have been asked to participate are checking with their schedules to ensure they're able to do the exhibition map during the weekend.  The exhibition is currently penciled in to the following schedule, which will be updated to reflect their availability.
Livestream Opening
March 4th, 7:00PM EST; 4:00PM PST
Opening the event is a new song from Ultimate Halo written specifically for the Spartans For Troops stream.  In this opening portion of the stream, we will discuss the full schedule of events for the stream introducing the communities/personalities participating in their specific segments of the stream.  Giveaways from all of our supporters offered during the stream will be revealed in this segment as well.  Finally, we will answer any stream questions before jumping into our first segment of gameplay.
HCS Pro Exhibition
March 4th, 8:00PM EST; 5:00PM PST
The Halo Championship Series is the premiere Halo eSports league featuring competitive teams from around the globe.  With all of the regional finals concluded and the final 16 teams ready to make the stage at the Halo World Championship Finals, we are delighted to host an exhibition match between two of the best North American teams.
Customs with Ready Up Live
March 4th, 10:00PM EST; 7:00PM PST
Our first gameplay segment that will be available to everyone to join is our Customs Lobby hosted by Ready Up Live.  Since the introduction of Forge in the Cartographer's Gift update, many customs games like Castle Wars, Tank World, Duck Hunt, Wipeout and more have been created, giving Halo fans hours of entertainment.  Ready Up Live has collated a collection of some of the community favorite custom maps and game modes created by the community.
Campaign Speedrun with ProAceJOKER
March 5th, 1:00AM EST; March 4th, 10:00AM PST
Many Halo fans have been enticed and intrigued by the story portrayed in the Halo campaigns.  For some, after experiencing the story first hand, they get straight to finding the quickest ways to complete it by finding shortcuts, breaking maps and any other techniques that makes things easier or quicker.  ProAceJOKER is one of the top Halo speedrunners in the community and the most active on Halo 5: Guardians.  Joker will complete a legendary campaign speedrun live on stream then show off some common tricks and skills used for speedrunning Halo 5.  To conclude the segment, he will host a co-op lobby for veterans to come in and try out some of the techniques.
Machinima
March 5th, 5:00AM EST; 2:00AM PST
Machinima has played an integral part of the Halo community since the very first game.  From Randall Glass's Warthog Jump video, to the Red vs Blue series, making videos in the universe of Halo has developed deep roots in the community.  We have partnered up with some of the top Halo 5 content creators from YouTube including KnightmareFilmz, ThaGreatIsaiah and Thomas Productions to bring you some great Halo 5 machinima including a piece specifically made for the Spartans For Troops event.  In addition to these machinimators, we have other YouTubers joining the segment to feature their work including DefendTheHouse, iSpiteful, ForgeHub and Halo Canon.
Classic Remakes with Halo5Remakes.com
March 5th, 7:00AM EST; 4:00AM PST
The power of Forge in Halo 5: Guardians has empowered the community to make incredible maps.  Halo has routinely featured classic maps remade into the current art style or remastered as a new map for a given game.  As Forge pallets have grown in size, the community has taken to remaking classic maps in Forge since Halo: Reach.  The versatility of Halo 5's Forge has allowed the community to re-create nearly every previous Halo map ever created.  Halo5Remakes.com has created a comprehensive list of every remake that has been created pulled from people posting on the Waypoint forums, YouTube, Halo Customs and more.  During this segment, we will review some of our favorite classic remakes from this list and play them in an open lobby.
Warzone with Halo Wheelmen
March 5th, 9:00AM EST; 6:00AM PST
Warzone is the latest addition to the Halo multiplayer sandbox, bringing the largest experience to date to the franchise.  It features 24 player combat with PvP and PvE gameplay including boss battles, base control and player combat.  The Halo Wheelmen is a Halo clan known for the guides they have developed for Warzone.  Their guides are some of the best when it comes to teamwork, strategies and techniques broken down to specific maps, weapons, vehicles, bosses and more.  The Halo Wheelmen will first run a full lobby of their clan to go over their strategies for an hour before opening up the lobby to veterans and community members for the remainder of the segment.
Grifball Tournament
March 5th, 1:00PM EST; 10:00AM PST
Grifball is the best sport within a first-person shooter and is undoubtedly the most popular community created game mode.  Originally started as a joke in the popular web series Red vs Blue, it became a reality in Halo 3 using the Assault game mode.  Since its inception, leagues have been created and is now managed by GrifballHub.  The Spartans For Troops will host the very first Halo 5: Guardians Grifball tournament with some of the best and well known Grifball teams to compete.  Veterans will fill a each team's 4th spot on their roster for this tourney so everyone has fun playing.  The Grifball tournament will award the first place team with Xbox Live gift cards and GrifballHub merchandise.
Racing with Ducain23
March 5th, 5:00PM EST; 2:00PM PST
Race has always held a small group of players among the Halo community since Halo: CE.  Although not every game has supported the game mode officially, the community has always overcome the obstacle by racing with the honor system in slayer game modes.  Halo 5: Guardians doesn't have an official race game mode yet, but that hasn't stopped Forgers from creating race track maps for the inevitable day when it does become available.  Within the community, one of the best race map creators out there is Ducain23 from Forge Channel.  He has picked some of the best race maps along with a few of his own to run for this segment that is open to veterans and the Halo community.
Podcast
March 5th, 7:00PM EST; 4:00PM PST
Operation Supply Drop has helped thousands of troops throughout their programs and the impacts they've made are quite remarkable.  While it's easy to support a cause based off what an organization describes what they do, there's nothing like hearing first hand testimonies on the impact people have made from their support.  We'll have an awesome opportunity to talk with a few people from Operation Supply Drop with first hand experience on how OSD supports our troops.
Arena Tournament
March 5th, 9:00PM EST; 6:00PM PST
Following the pro exhibition, the Spartans For Troops Arena Tournament will take place.  Up to 16 teams will enter a single elimination bracket playing on maps and modes found in the HCS.  With the addition of Assault in the Hammer Storm update, teams will be able to choose whether to add this game mode and any new maps to their series.  Rules and Registration will be made available soon.
Forge
March 6th, 1:00AM EST; March 5th 10:00PM PST
The diversity of Halo and it's longevity for recent games is majorly contributed to community created content through Forge.  We will be sitting down with some of the Community Cartographers to explore this mighty tool and all the new things that have been added in Halo 5: Guardians.
Arena Matchmaking
March 6th, 3:00AM EST; 12:00AM PST
To conclude the livestream, we will host an open lobby for Arena matchmaking.  We will rotate the lobby every two games and will play in different play lists given the demand to play as the stream comes to a close.