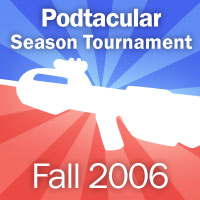 Our Second season of Halo 2 is here guys. Now it's time to practice up and get sharp for the matches that we will have in 2 weeks kicking off the start of the LARGEST Podtacular tournaments with 24 teams and over 95 players!!!
So click on the top left side of this page "Tournaments – Fall 2006" and check out the amazing season whe we have in front of us! I would like to give a very special shout out to CapnKrunk for helping me out with the new system. This season would not run as smooth if it wasn't for our favorite Capn!!
Good Luck to all teams that are playing and if you're not playing make sure to keep up with the news and root for your favorite team!!!
Check out the Forums for more information on this season!