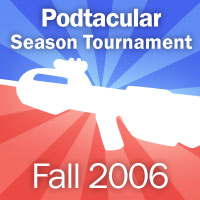 It's now the end of another successful Podtacular Season Tournament and this time we have Team Overrated taking home the title of champions of this season. Congratulations Team Overrated.
Before I go into any details of the winners, I would like to take the time and THANK every one and every team that participated and took this tournament serious by trying to schedule their matches, playing their games correctly and avoiding any type of conflicts.
This was a new experience for me in particular, having teams from other clans/communities and I have to say that It was an amazing experience. Read on…

———-
I must thank the Cavegirls, SBG clan for bringing a couple of teams, The Winged Warriors for also bringing a couple of teams and the guys from HaloWiki also. Thank you so much guys for coming and sharing this experience with us, we ejoyed very much having you guys around and I hope we provided at least a little of enjoyment and fun to you since this is what everything was all about anyways.
I also have to thank all of the podtacular community for helping me and giving me the needed support in special CapnKrunk. This season would have not run as smooth if it wasn't for him helping me with this new system. Thank you Krunk. I want to also thank every one of the 96 players that entered the tournament. This is huuuuge and I thank everyone that stuck around to make this happen. Thank you Podtacular and friends for all the help and support in another great Podtacular Season.
With no more delays join me in congratulating Team Overrated, the winners of the 2006 Podtacular Fall Season.
These guys are certainly 4 of the finest players in podtacular and we're honored to have them with us. The team work, skill level and commitment to each other and team has brought these guys to top and we hope to see them growing and becoming even better as the days go by here in Podtacular world. Team Overrated came along a hard path beating teams that were not only tough but also SERIOUS candidates to the championship such as Team Us and Team Grunt Inc. Therefore we salute you and congratulate on this amazing milestone. Congratulations Team Overrated.
I would like to also make note of Team Chicano Clique. They also traveled a hard path beating teams such as Cavetacular and Rampant Fury but thanks to their indisputable team chemistry they never let their main focus of being in the finals get away. Congratulations also to Team Chicano Clique for this great season.
The games for the final match are as follows and you can check them out by simply clicking on the link bellow.
One more time Thank you everyone that contributed in a way, whether by donating a prize, making a signature or making sure that I got the correct subject when sending out a PM to me with the games. I appreciate every little thing you guys did. Thank you again Podtacular and Congratulations Team Overrated.
See you next time.
Dialpex
Tournament Director